Backmasking
is the adorable name I've given to a project I've been trying to find time for here for years, and will hopefully be a regular feature now that I'm caught up on new music. (
The Essentials
is not forgotten, by the way, and will be returning in a huge way sometime this year.) What we'll be doing here is tracking back through the careers of the current artists who've garnered the most praise here for their recent efforts and making sure that their previous studio recordings are accounted for in our archive. In some cases this will mean taking on (often in full-length reviews) obvious classics, from
Hunky Dory
to
Homogenic
; in others, it will involve exploring old artists like Nick Cave I've only come around to recently, or new ones whose earlier efforts I happened to miss, or just records I already liked (or didn't like) that I never wrote about here. You'll see plenty of examples of all sorts of possible eventualities in this first installment. They are numbered strangely for my own purposes, and they'll be posted at irregular but probably frequent (by my standards) intervals. They've also technically already begun, with our recent long reviews of Mountain Goats and New Pornographers records from the mid-2000s; I'll often be breaking away records I really really love from these normal installments for their own separate posts. The regular Backmasking posts will be formatted just like regular monthly updates here; and we're tracking the artists' discographies backwards, hence the title. I hope you enjoy the results thus far.
Because my memory is not quite as faultless as I like to think, I managed to forget that I hadn't yet reviewed
The Milk Eyed Mender
, and didn't realize this until I'd already started work on taking on Joanna Newsom's EPs; I'll post a full-fledged, full length essay on that wonderful record as part of the next batch coming up soon.
***
Nadine Shah: Fast Food (Apollo UK 2015)
[r]
Shah's second album is less politically charged than her third,
Holiday Destination
, which shattered me on release and has only grown in my estimation since, but it still shows the depth of her immense talents, and those of her main collaborator (as producer, cowriter, drummer and sometimes bassist) Ben Hillier. Shah's voice recalls Alison Moyet, and it has a toughness that gives gravity and depth to this parade of romantic cynicism -- impossible relationships ("Divided"), the miseries of single life ("Living"), the pensive nervousness of harmony when it's actually achieved ("Big Hands"), the self-torture of unrequited love ("Matador"), and the pratfalls of being pursued by someone who's a total bore ("Fool"). The intensely bad relationship documented in the stunning title cut ("Our guts are rotting... I can't stomach anymore") is evocative of "No Children" and has the same air of fatalism about extended comfort and mutual affection... yet at the same time, on "Washed Up," Shah points the gun at those who'd give up personal connections for misguided principles, so it seems as if the world through her eyes is simply unforgivably muddled and confused, love itself a nefarious force that can be neither avoided nor conquered. Shah's lyrics are excellent but the music, at its best, tells the stories with the ample help of her singing. The only drawback, in contrast to
Holiday Destination
, is that the songs tend to sound uncomfortably similar, particularly two rather unfortunately placed consecutively toward the beginning, and while it's impressive that the arrangements have a layered sound despite being generally recorded with few overdubs (apart from the layered vocals on "Nothing Else to Do," which is a bit of a dud anyway), there's not quite enough variance here for the hard-hitting, ferocious mood of the first few tracks to continue to hold, even though Shah's voice lets her songs seemingly open to wide, John Ford-sized expanses.
Vince Staples: Prima Donna (Def Jam EP 2016)
[r]
Staples is a rap historian of the first order, but his focus seems to be on cautiousness -- on avoiding the mistakes, self-inflicted and inflicted by the white media, that haunted his heroes and predecessors. His art takes the same reactionary tactic as his personal life, he feels stable enough in his relationship with Def Jam to record whatever he wants, and at just 23 he seems determined to hold fast to his principles. This explains the presence of James Blake as producer (though No I.D. nearly steals the gold on "Pimp Hand") on two inward-looking California tracks tempered by thoughts of suicide, which looks backward to the 1980s collusion of house and hip hop, and obviously points forward to the Hyperdub-Warp textures of his brilliant
Big Fish Theory
the next year. Lyrically it's all reflective and dour, and high-concept, having been crafted as a soundtrack for a video project that Staples and the label slightly mucked up timing-wise; it's also truly weird, but not much weirder than Kendrick Lamar's last few records only without the mass commercial success, with
DAMN.
predicted oddly directly by a gunshot sweeping into a fierce Andre 3000 verse. The lo-fi a cappella interludes filled with phrases like "sometimes I feel like giving up" and "we all waste away" are interspersed between typically heavy, thoughtful creations that in fact bang like almost nothing on
Summertime '06
or
Hell Can Wait
. The subjects are depression and post-fame malaise ("I hope to see you in another life, mine's just not for me"), both approached with universal compassion and self-criticism, though he's sharpest when he points the knife outward: "They only fucking with the rapper if the rapper rich... Edgar Allan Poe tried to warn 'em of demise and all they seen was crows." Verses about feeling down about the emptiness of "making it" are a dime a dozen, but "I know that money come and go so money not my motive no more / I made enough to know I'll never make enough for my soul" is so smart it could make you uncomfortably envious. Even on a cut like "Loco" -- a ruthless earworm thanks to guest Kilo Kush -- fleeting optimism is cut through with talk of ending everything. The flow's interrupted a bit by the constant interludes, and without the conceptual accompaniment it all hangs together a little awkwardly ("Big Time," a catchy one with a weak chorus but great sarcasm and a verse on which Staples convincingly offers his Danny Brown impression, doesn't feel like an album closer and really shouldn't be), but the energy never flags, and hey, nice out-of-nowhere mention of Wavves going apeshit at Primavera.
Slowdive: Pygmalion (Creation 1995)
Initially, Slowdive's third album and almost total departure from their signature dreampop-shoegaze sound can seem like kind of a nightmare -- a slog through a post-rock landscape by a band whose best work and experience was in an entirely different department -- and it does go on and on, despite escaping charges of overlength by only fitting nine songs into 48 minutes, many of its songs flat and one-dimensional... and while I hate to use this lazy word in relation to any music, it's pretty fucking depressing. As a listening experience, it meanders and challenges, and sometimes annoys; it feels like the work of a group halfway between two identities, a charge that turned out to have some truth in it, but not really in the manner expected. Treated as an ambient record, however, it's certainly credible and hypnotic; the sound is of a living band being slowly subsumed by machines.
Kid A
came out five years later. Slowdive were dropped by Creation in the spring of 1995. (They then retired the name for nearly two decades but essentially continued performing as Mojave 3, who answered the age-old question "does Slowdive have any countryish type songs?")
Sound of Rum: Balance (Sunday Best 2011)
[r]
From the cover you'd think this was throwback rap-rock, a European longing for a dead American movement (a grand tradition that brought us the likes of, geez, the Rolling Stones??), but no dice; this is the short-lived hip hop group Kate Tempest formed before striking out as a solo artist and performance poet, the latter field glimpsed here on the collegiate "Icarus." Perhaps in part because the record already employs her future producer Dan Carey, the music is surprisingly strong and sophisticated even at this stage. It's less unified, its drama more uneven, than on Tempest's own records, but actually just as impressive after a fashion, and her elastic, ingratiating delivery is already in place. She's further down in the mix because the music is really about getting into and following grooves (she wraps herself around the addictive beat of "EdWouldBe" masterfully), but the blend works; the band's live instrumentation is gritty without falling into the stadium machismo of so many hip hop-rock hybrids. It's even funky, a bit. And there are moments when you can sense potentially rich avenues Tempest has yet to explore herself, which is exciting: take the romantic cadence on "End Games," which is more of a piece with the confident lovesickness and eroticism in some of her poetry, and the comfort of hearing this actual hero mutter, all these years before "Tunnel Vision," about "trying to make peace with this pain."
Danny Brown: The Hybrid (Rappers I Know 2010)
Only three years after this, Danny Brown would chide hangers-on over their incessant
Stardust Memories
-style requests for "that old Danny Brown." Did they mean the guy without any kind of a brand (his signature yelp isn't even fully committed yet) who really honestly truly includes an anti-prescription drug song (with bonus transphobia and anti-birth control content!) on this record? To be fair there's solid flow and some handy proof that Brown had a taste for strong beats from edgy underground producers from the first, but few of Brown's own hooks really prove memorable -- and the incredibly dumb lyrics fail to justify the occasional clever blip or big laugh (I'll never look at Wheat Thins the same way again).
Atrocity Exhibition
,
Old
and even
XXX
seem to come from another universe.
Thao and the Get Down Stay Down: We the Common (Ribbon Music 2013)
[hr]
On discovering this record and projecting back to my remarks about the even stronger
A Man Alive
, I must slightly walk back on my feelings that Merrill Garbus deserves such a large share of the responsibility for that record's irrestsible rhythms and arrangements; it's not outrageous to wager a guess that Garbus was already an influence here, since Thao Nguyen worked with her on her collaborative album with Mirah, and Garbus' emphasis on propulsion and beat certainly does make the subsequent album truly explosive, but it's just as clear that what makes both these records tick is Nguyen's singing, writing and numerous instrumental proclivities as well as the interplay she shares with the other members (here numbering two, Charlie Glenn and Adam Thompson) of the Get Down Stay Down.
We the Common
is inspired by Nguyen not just advocating justice and compassion but doing the work, with lyrics lifted from her interactions with women undergoing life sentences and her general collectivist philosophies; they're no less personal than her songs before and after because she makes sure they aren't. The music is so good here that it will take some time for you to work around to analyzing the words, anyway -- it's sprightly and just
cuts
, touching down effortlessly in unexpected neighboring towns -- the exotic, intricate folk of "Holy Roller," the Beastie Boys dance groove of "Every Body," the laid-back California swing of "Human Heart." And while I can't pretend my heart threatens to burst anywhere here like it does on "Millionaire," I don't think
A Man Alive
can claim so many moments of anthemic triumph: "We Don't Call" has horns and chord changes so addictive they could be on a Stax record, "The Feeling Kind" could be a Clash song only with more keys, and "Age of Ice" is the perfect climax of self-reassurance. And Joanna Newsom's on "Kindness Be Conceived"; there's so much here to be excited about and I'm a fool forever for not hearing it at the time.
The Wave Pictures: City Forgiveness (Moshi Moshi 2013)
[A+]
When David Tattersall wakes up in the morning, it seems as if everything could inspire a lyric, and not merely any lyric but a good one -- well-judged, compassionate, honest, occasionally wry and funny, as often conversational as poetic. When he ventures outside after the cup of whatever, it sounds like he searches for animals first: frogs, bees, birds, rabbits, cows, goats,
the horses
: they're all here somewhere or another on this sprawling, hypnotic, subtle, frustrating, out-on-a-limb double album of subtle three-man jamming, songs with hooks and songs without, killer solos and daft solos, seemingly effortless but achingly beautiful singing, and here and there a song you feel an urge to use immediately in leading a karaoke singalong if only you could. Of the later records that made me fall in love with what's now probably my favorite running guitar band,
Great Big Flamingo Burning Moon
was a collaboration with an outsider,
A Season in Hull
a mail-order acoustic mystery,
Bamboo Diner in the Rain
a compensatory rock showoff;
City Forgiveness
, despite its 90-minute length, feels like the purest expression of who they are and what they do, and the never hidden or ignored matter of why they do it. Seemingly an endless well of songcraft, they're as hard-working and prolific as the Mountain Goats (with whom they
recorded a lovely song once
), as erudite and warm as the Go-Betweens, and love and dedication seem to seep from every moment; they recorded this, mostly live, after writing it on a rare tour of the U.S. with Allo Darlin', such a wonderful matchup I'm again extremely regretful that at the time it happened I was unaware of either group. You can feel the energy and exhaustion that result from trying to process such a long, strange trip. Musically, some of the songs decline to assert themselves fully; the matter of degrees of difference across tracks can make the record overwhelming, but so is Joanna Newsom's
Have One on Me
, so is R.E.M.'s
New Adventures in Hi-Fi
. The overarching melancholy and joy of it all, uncomfortably but rapturously coexisting, wrap themselves around you with time, and after a certain point it's as though you could listen to them play anything just to continue this connection. The booming charge of "All My Friends" and intense self-examination of "Before This Day" (absolutely one of the best lyrics of any song I know of, and Ian Cohen will never understand it) set a stage that implies you're in for an endless parade of creativity and comfort, and you are. In the eighteen songs that follow, highlights are many -- from the driving and forceful ("Better to Be Loved," "Golden Syrup") to the lilting and romantic (three place names, not all of which are places in the songs: "Missoula," "Lisbon" and the irresistible "Atlanta," sung by drummer Jonny Helm) to the outright angry ("Tropic") to the indescribable ("Red Cloud Road, Pt. 2") and the songs weave their mythologies and mysteries and undeniable truths into one another; that you are left hanging by the unresolved, sad final seconds of the stunning "Like Smoke" says it all. Tattersall is the dominant personality but all three Pictures can and will do whatever the song requires. It's all an endless parade of creativity and comfort; you'd be envious of their communication skills if you weren't reaping all the benefits.
Anthony Joseph: Time (Heavenly Sweetness 2014)
[r]
Whereas Joseph's subsequent
Caribbean Roots
was an almost indescribable revelation,
Time
presents all of the various elements of that record's success in a skeletal, rough-draft sense; it's rawer, less of a synthesis. The sound can be a bit uniform, with fewer moments that become songs rather than elaborate narrations, stunning as Joseph's poetry and his reading of it consistently is. Major exceptions: the opening cut, "Hustle to Live" (a hell of a piece), and two about death: "Heir (For Women Who Wish)" and "Alice of the River"; both are extraordinary, transcendent, out of time and thoroughly in it.
David Bowie: Reality (Columbia 2003)
When this was released it was David being David, settling into his late-career groove; the George Harrison-via-Ronnie Spector cover and the relatively ancient outtake "Bring Me the Disco King" felt like bonus tracks that weren't. (To be honest, I was not a fan back then in the first place, but I had a friend who was an acolyte and played this at work.) We had no idea he would not be heard from for a full decade, and soon afterward would be gone, but with fresh ears and his two subsequent albums in mind, it actually feels like it was time for a long break; the quality of those later works speaks for itself. Every song sounds like somebody else's, or
is
somebody else's (Bowie seems at sea confronted with Jonathan Richman's very distinctive aesthetic), and the production has a sheen that now seems dated, while the supposedly antiquated '80s material he was distancing himself from back then feels forward-looking. Listening carefully it's not so bad, really; the great advantage is the restlessness of Bowie's songwriting, a strange counterpoint to his sudden resignation to being an industry veteran -- a bonus track on one edition is a cover of "Waterloo Sunset" -- and hearing any of his work now it feels like grabbing at the sky for more, always more. What's strange is that
The Next Day
doesn't feel in the least like a follow-up to this record; there truly was a hard reset somewhere in the interim. Big fans will find plenty to catch their ears nevertheless, and will forgive everything else; casual fans will at least grasp the sadness and beauty of "Days."
Sheer Mag: Compilation [I/II/III] (Static Shock comp 2014-16/2017)
[hr]
Sheer Mag: I (s/r EP 2014)
[r]
Sheer Mag: II (s/r EP 2015)
[hr]
Compilation
is a gathering of the three 7" EPs that made Sheer Mag's reputation over the past several years, peaking with the previously-reviewed
III
, in the run-up to their quite different debut album
Need to Feel Your Love
in 2017. Though they're unflappably energetic from the first seconds of
I
, the longform version really tells the story of an increasing craftiness; for all the talk about lo-fi, this is really FM-ready, accessible stuff and ends up convincingly reasserting the symbiosis between a love of the unadulterated hook and of increasingly mega, meaty riffs. Starting out as a chaotic but tuneful outfit distinguished more than anything by full-throated Tina Halladay's fiery, insistent, anarchic vocals, they've become by the end of the three years covered here a full-on, if very hard-edged, power pop group, closing the set with their greatest song to date, "Nobody's Baby," which could be some beloved earworm smash of yore or, just as likely, some forgotten treasure you'd find in a bin somewhere. Luckily Sheer Mag have already proven themselves impossible to ignore or to get over. From "Hard Lovin'," the first standout, through the steady ferocity of "Fan the Flames" and "Whose Side Are You On," the vocals destroy just a little more of the room, the vitality increases just a touch, and the narrative gets furthered just a bit. It seems crucial for these three records to coexist in this manner, with
Need to Feel Your Love
coming across as a band with no intention of delivering what's expected, which is a great sign. For now this is a perfect document of what youth, righteousness and rebellion can still mean for rock & roll, live and dangerous.
D'Angelo: Voodoo (Virgin 2000)
[hr]
Five years separate
Brown Sugar
from D'Angelo's second album, small potatoes compared to the fourteen between it and its successor, the masterpiece
Black Messiah
; in this single burst of activity, there is enough to contemplate, sweat out and fuck to for maybe a decade longer. The layering of D'Angelo's music, its nuances and gravity and gritty sensuality, offers pleasures that feel hard-won; like all good funk, it is minimal and direct, but it consistently resists conventional neo-soul structures and sounds and (especially) singing, despite being hailed as a benchmark of the subgenre. It sounds as timeless as
Black Messiah
does, while it's also far less difficult and features a bona fide ageless R&B classic and the best Prince song Prince didn't write, "Untitled (How Does It Feel?)," whose video celebrated the musician's nude body and managed to help derail the chaotic tour promoting the album's release. Outside of that note-perfect seven minutes of absolute bliss and a similarly intense cover of Roberta Flack's "Feel Like Makin' Love," the mud and the density are initially confounding, but what you find at the core is sex, sweetness, filthy transcendence.
Joanna Newsom: Walnut Whales (s/r EP 2002)
[r]
Joanna Newsom: Yarn and Glue (s/r EP 2003)
[r]
Joanna Newsom & the Ys Street Band (Drag City EP 2007)
[r]
Newsom's EP catalog, though limited to what are now the early stages of her career, presents a parallel narrative for a number of songs that have become classics. They're mostly curios, though fans will be delighted if they haven't happened to have uncovered them yet. The first two discs listed above are self-released CDRs circulated privately and at shows prior to Newsom's success and signing to Drag City, and their most promising cuts were re-recorded for
The Milk-Eyed Mender
; the third is a special showcase for the touring band she took with her on the road in support of
Ys
.
Walnut Whales
is album-length and in fact more of a demo than a cohesive EP; obscurities "Erin" and "The Fray" are pleasing hidden treasures, though "Flying a Kite" is a bit silly. The early versions of various
Mender
songs sound lovely if unpolished ("The Book of Right On" is particularly impressive) apart from "Peach, Plum, Pear," which is strangely subject to a strained, awkward vocal and is played here on keyboard rather than harp. Still, if you pretend you heard it without knowing who Newsom was, this item feels like some alien creation you don't quite know how to interpret, and there's no denying out of the gate that she's a singular, alluring talent.
Yarn and Glue
is much shorter but also a good deal more confident, as demonstrated by three of its songs -- "Sprout and the Bean," "This Side of the Blue" and "Bridges and Balloons" -- being tweaked just slightly to become those that would make her reputation a year later. All three are, of course, magic in composition and performance. The title cut, with kalimba in tow, may be the slightest song in Newsom's catalog, while "What We Have Known" seems to have continually fascinated Newsom despite being cut from
Mender
; attempted again during those sessions, it appeared as a b-side in 2004 then as a single on its own seven years after that. Finally, the
Ys Street Band
EP is a key supplement to
Ys
, demonstrating band interplay that approximates the live show without seeming quite as hypnotic, and needs no apology or setup. The revision of "Cosmia" sounds surprisingly different without Van Dyke Park's flourishes, perhaps earthier; the new song "Colleen" is good enough to have been on the full-length record; a
third
version of "Clam, Crab, Cockle, Cowrie" is fine but feels a bit extraneous. Since 2007 Newsom hasn't graced us with any supplemental material beyond the albums; what's interesting when hearing these is the sensation of knowing she was to grow even further beyond the two albums of which these discs provide such pleasant memories.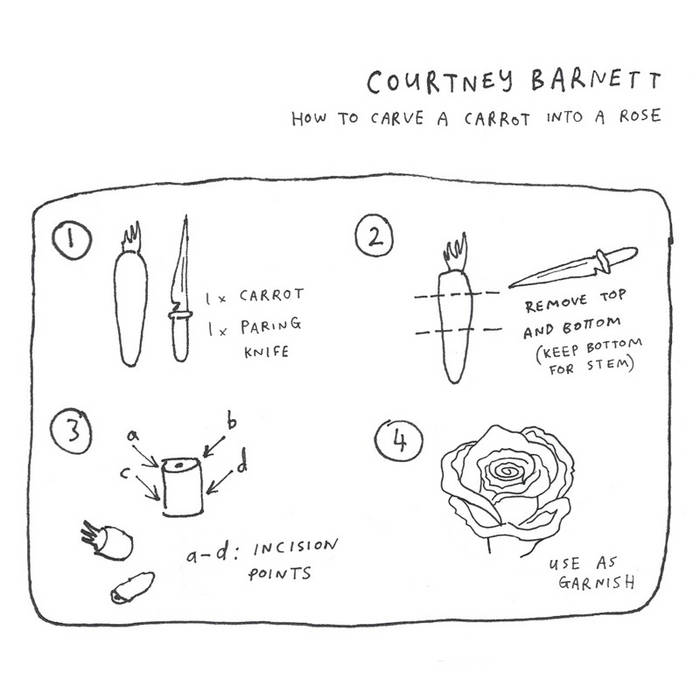 Courtney Barnett: The Double EP: A Sea of Split Peas (Mom + Pop comp 2012-13/2014)
[hr]
Courtney Barnett: I've Got a Friend Called Emily Ferris (Milk! EP 2012)
[hr]
Courtney Barnett: How to Carve a Carrot into a Rose (Milk! EP 2013)
[hr]
Whereas Joanna Newsom and Sheer Mag among thousands of others used extended-plays to develop a style that emerged fully formed on their debut albums, Courtney Barnett is remarkable in the sense that by the time you drop the needle on her very first release,
I've Got a Friend Called Emily Ferris
, she is already firing on all cylinders, writing brilliantly and performing at peak capacity. Barnett's career begins with a story about getting off to try and fall asleep, following on with one about nagging parents. The third tale has a few lines that I want you to imagine Leonard Cohen singing: "In my pocket is a bottle of blue / drink it when I'm feeling misconstrued / don't like the taste but I like the overview" and "I got lost somewhere between here and there / I'm not sure what the town was called." Easy, right? There's of course also the guitars piling on, the great moods, the great craft, and Barnett's distinctive, talkative, easily charming but undiluted, honest singing, displaying perhaps its widest range on her earliest disc, up to the lovely lilt on "Porcelain." On the second EP, which is very nearly as wonderful, the songs and performances more clearly resemble the contents of
Sometimes I Sit and Think...
, although there is more resistance here to a complete cutting loose (in fact, the hardest rocker with the most abrasive guitar is "Canned Tomatoes (Whole)" on the earlier record). Nearly by default the standouts are the most confident narratives (confident about being tentative and anxious, that is) -- "History Eraser" travels into lost opportunities from dreams; and the unforgettable "Avant Gardener" approaches anhedonia and asthma with equal personality and equal compassion. There's scarcely a slow spot on either disc, and no learning curve; the two are collected in reverse order on
A Sea of Split Peas
, which works so well as a companion to her first album it's tempting to classify it as a studio LP.
Ezra Furman: Day of the Dog (Bar/None 2013)
[hr]
As explosive a record about mythologizing -- raising depression and anxiety to a kind of mythic art form in the fashion of Hank Williams -- as
Perpetual Motion People
is about self-examination; but with equal importance, this is full-on rock & roll spirit as usual, with more hooks and a bit more polish. It was Furman's first record with his touring band the Boyfriends, coaxed along with aplomb by Tim Sandusky's saxophone and of course Furman's love of classic chord structure and probing, witty lyrics. The knockout punch comes in the first ten minutes with a procession of four very different but brilliant numbers: "I Wanna Destroy Myself" insists that it means it via Furman's fraying vocal chords against a psychotic rockabilly backdrop; "Tell 'Em All to Go to Hell" heads down the road unapologetically; "My Zero" seduces with pop while reveling in vulnerability; and the title cut is slow, aching and manic. The record doesn't flag after that, even if it does advise you early on what to expect (well, apart from the extreme outlier "The Mall"), that being a new conception of the rock & roll outlaw: in a dress, trying. "Been So Strange" could've been recorded fifty years ago, and the triumph of its hook still lifts you in the air, the essence captured with a conviction that temporarily erases the memory of a million other moments with its essence. When you come to know Ezra Furman, he's irresistible, his character and interests and problems deeply identifiable. His use of the sound of his most beloved recordings to air out his demons is nothing short of a public service, his songs nothing short of magnificent, his band perfectly attuned to wherever he takes them.
Lady Lamb: Ripely Pine (Ba Da Bing 2013)
[hr]
So it turns out that Aly Spaltro's first album, back then under the name Lady Lamb the Beekeper, is (yawn) another hour of rock-god theatrics, of her voice's tilt and unpredictability wrapped around equally unpredictable, tricky songs that are lit up by an erudite honesty and seriousness, lyrics that in all their confidence and sophistication don't seem reducible to any kind of analysis or criticism, and all tinged with the excitement of hearing someone who lives, sings, plays through her emotions. Craving contact here, longing not to lose it there, never anything less than complete in perspective on any story she encounters, and that's not just verbally. So in other words, exactly what you'd expect given her later work. Ho hum; no alarms and no surprises, etc.
The New Pornographers: Together (Matador 2010)
[r]
The common feature of all of this band's best work is that it refuses to accept that it isn't commanding your attention; Carl Newman's knack for this required him to conjure up many different ways of exploring it, so like Big Star's first two albums, the Pornographers' greatest successes are consistent treasure troves of hook, melody and mysterious arch sensibility but they also are full of variance, surprise. The chief failing of
Challengers
and
Together
-- two records that feature enough masterpiece AM-radio-potential cuts between them to fill up a fictitious greatest hits -- is their
contentment
; at the time their fifth album was released, Robert Christgau called them "never a supergroup, now clearly a side project," and it seemed dead-on to me then, but if I play this and roll down the road with my wife now we end up singing along to nearly every one of its songs. Maybe "Your Hands (Together)" is a bit of a sidebar, and the twelve-string delights backgrounding "If You Can't See My Mirrors" aren't quite enough to compensate for Dan Bejar's lackluster verses, but the first half is otherwise one long triumph: "Moves" is a rumbling statement of purpose with an instantly captivating, distinctive shape, and "Crash Years" is a silken catharsis with a simple beauty that can't be dismantled. The first Bejar interlude is a good one, "Silver Jenny Dollar," and Newman then offers two of his most unpretentiously beautiful songs in "Sweet Talk, Sweet Talk," on which the entire band sounds so fresh and full of joy it's like a dancing sickness, the bridge falling in unexpected and liberating like a Brian Wilson interlude in a Paul McCartney song, and on "My Shepherd" Neko Case indicates her ability to make even Newman's most elaborate vocal lines into something with real earth and soul to them. Alas, the driving loudness and full-throated pleasures fall off badly thereafter, though nothing is an absolute failure except a Bejar song that really should've been laid aside for Destroyer, or at least placed as something besides the penultimate cut. The two best of Newman's remaining songs are strongly evocative of earlier work: "Up in the Dark" mostly makes you long to hear "Mutiny, I Promise You," and while "Valkyrie in the Roller Disco" is beautiful, it's also inescapably similar to "These Are the Fables," which isn't a serious criticism but indicates a certain listlessness that just doesn't fit this band's aesthetic. (Their next record would prove their best, though the one to follow their weakest, so if Newman has a curse it seems to be something to do with, eh, scheduling?)
clipping.: Midcity (s/r mixtape 2013)
[hr]
Along with the debut album
CLPPNG
, this captures a beautiful moment when this trio seemed totally unbound by any potential boxing-in of their hard-hitting, wide-ranging ideas. There may be no more purely impressive way to hear Daveed Diggs' delivery, spitting and growling and chirping and all at a head-spinning rate but never less than crystal-clear in its violent, masterful black comedy -- a kind of aural variant on the Roots' classic "What They Do" video -- that gives off the vibe of a performer so excited and new he doesn't realize anyone's listening yet. The beats are avant garde and mindbending, with occasional why-not touches of trip hop and psychedelia. Hip hop laurels are turned upside down, and not just because there's a collect call instead of a voicemail, not just because the sneer in "if you got a hundred thousand dollars all up in your mattress and ain't nothing in the bank say
eyy
" makes it something besides a joke, not just because the record ends with nine minutes of the words "get money" looped as they swirl around and threaten you with drooling insanity. But because their directness and intelligence somehow feels like a threat.
Beyoncé: I Am... Sasha Fierce (Columbia 2008)
In the old days we called this "consumer fraud": a double album with a total of eleven songs, assuming you don't seek out the special exclusive retail version, or the Japanese import, or the iTunes download, or the Australian iTunes download, or the "platinum edition," or the Walmart-only disc, or the deluxe reissue, or the version with the extra EP bonus tracks, or the UK iTunes download. I'm honestly less frustrated by that than by the phoniness of casting this grab bag as some sort of statement of individuality; it's a soda commercial. It may be a slick and attractive soda commercial, but it has none of the heft or personality of anything this artist has delivered since. Underneath the hype, the "concept," the commercial narrative, the engrossing credits for "assistant engineer" Lady Gaga, and the executive producer on the cover who can't quite string together her and her eighteen cowriters' work, the draw here is Beyoncé Knowles' confidence as a singer and the short-lived visceral thrill at hearing her voice even on mediocre songs, which describes every single one of these except "Single Ladies (Put a Ring on It)." Disc one is all soppy power ballads that range from mildly provocative but way too similar to Five for Fighting ("If I Were a Boy") to pure boredom to the completely inexplicable ("Ave Maria"). Disc two goes for broke with dancehall-influenced paper plane jams that are at least charming most of the time but almost universally feel dated already, in part because it's a hell of a long walk from Wayne Wilkins and Bangladesh to The-Dream, who worked on the big one. "Diva" is recommended if you want to draw attention to yourself while driving out of the grocery store parking lot. "Video Phone" is about video phones. "Radio" is sweet and pleasant. "Single Ladies" was, is, will always be a monster. There are probably more memorable hooks in the ballads than in the dance songs, which seem ever thinner, but that doesn't help any of the music become particularly strong as anything but a delivery system for these very short-lived shots of recognition. The pretension of
Lemonade
as both elevated personal saga and as corporate manifesto is artistically viable pretension from someone who knows what to amplify. The pretension of recording forty minutes of mostly slight music, spreading it this thin and labeling it various kinds of growth and revelation it absolutely isn't, is admirable mostly as sales pitch. The narrative is now disrupted by streaming, which both improves the record and renders it pointless. Nonetheless, all but two of the songs were hit singles, and ten years later why argue?
***